Cette page n'est pas disponible actuellement dans votre langue. Vous pouvez en afficher une traduction automatique avec l'outil Google Translate. Cependant nous déclinons toute responsabilité quant à ce service et nous ne contrôlons pas les résultats de la traduction.
Pour en savoir plus à ce sujet, contactez-nous.
Data-driven manufacturing
Unlock the power of your manufacturing data with Renishaw Central
Renishaw Central
Connectivity
Consistency
Control



The journey to Industry 4.0 starts with data
Trends promising to transform manufacturing industries include:​
predictive analytics​
artificial intelligence​
increased use of connected systems
The foundation for all of these systems will be data
Most manufacturers already have access to metrology data, but with the assistance of Renishaw Central, you can deploy that data consistently. Renishaw's portfolio of industrial metrology and additive manufacturing (AM) products, which can be used throughout manufacturing processes, provides the right data at the right time, enabling you to control your processes.​
The Renishaw Central manufacturing data platform provides a consistent method of connecting your Renishaw measurement and manufacturing devices, to make it easy for a variety of systems and processes to access Renishaw device data.​
Renishaw Central enables you to:
store and visualise your data
consume data into your digital systems
use standards-based connections
Connectivity
Automated efficient data collection.
Plug-and-play solution for easy implementation and maintenance.
Standards-based outputs allow connectivity to third-party platforms.
A single up-to-date view ​of factory data.
Consistency
Process automation for unattended 'lights out' productive manufacturing.
Intelligent and automated decision making requires less human intervention.
Use of data from multiple devices and operations for superior control of upstream processes.
Shorter feedback loops enable rapid reaction and adjustment to process variation.
Increase machine utilisation and productivity while reducing scrap.
Control
Continuous improvement through analysis of end-to-end process data across operations, cells and time periods.
Predict, identify and correct process errors before they happen by characterising acceptable process trends and performance.
Enhance understanding of process performance, part quality and product design by using metrology data captured throughout your processes.​

How it works
Renishaw Central provides consumers of Renishaw data with a storage and interface layer that contains up-to-date machine and job information, including metrology, machine status and alert data. This information is made available to customers in several ways, including standards-based output (such as MTConnect), the Renishaw Central API, and web browser visualisation.
Start your journey to Industry 4.0
The right information, in the right place, at the right time
Metrology data
Dimensional data and tolerances
Yield data
Sensor information
Utilisation data
Real-time device conditions
Machine utilisation dashboards
Performance reports
Alert data
Alerts for unattended machining
Error notifications
Preventative maintenance
Current Status
Job Performance
Machine Performance
Machine Analysis - Jobs


Machine Analysis - Process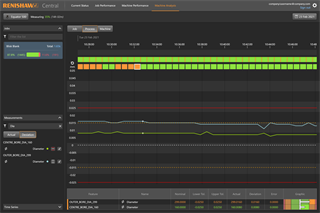 Machine/User/Process Settings
Please note that Renishaw Central is not currently available in all countries.
Our data-driven approach to process control
As manufacturers ourselves, we face the same production challenges as our customers:
to be highly productive
to achieve more consistent capability
to increase our levels of automation
to reduce our costs and be globally competitive
At Renishaw, we've applied our own innovative approach to eliminating or controlling sources of variation in our manufacturing and, of course, we use our own products to address these common challenges. We've shared our learning with our customers who are now consistently producing performance parts, manufactured to tighter tolerances and with minimal human intervention.
Find out more about process control
We provide a structured approach to identify and control variation in manufacturing operations, backed by innovative technology, proven methods and expert support.
See how process control can make your operations more profitable and boost your competitiveness.
The Productive Process Pyramid™